CONTRACT STAFFING MUMBAI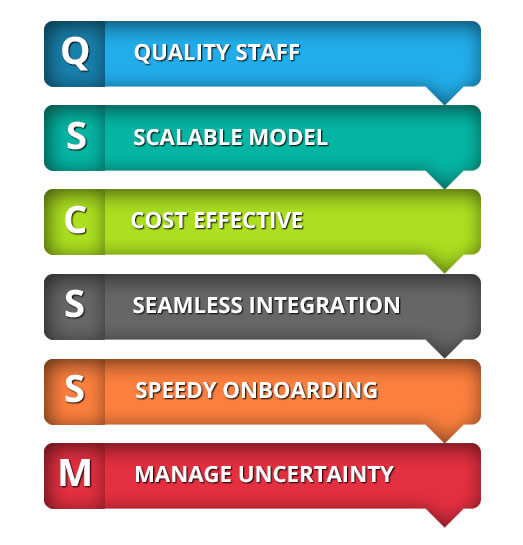 Contract Staffing or temporary staffing as the name suggest is a method of recruitment which engages any candidate for a short duration. This contract usually takes place between one company which is mostly any staffing firm and any individual or in many cases between two companies. There are many contract staffing companies in Mumbai which are focusing on this upcoming trend in the recruitment industry. This unique staffing concept allows the organization to quickly ramp up their urgent projects with pre qualified candidates for short or longer term.
We Placement Consultant in Mumbai are trying to tap the best out of this unique concept. We are helping our clients to explore right candidates, train them, and mould them as per their requirement. In the course of the time if the meet the required skills the candidates can be placed on the roll for full-time employment. We ensure that we meet the job details of the clients by providing pliable staffing solutions across all industries. We assist our clients in fulfilling their short-term, long –term, consulting, temporary as well as the full time requirements. As the most trusted contract staffing companies in Mumbai, we want to live up to our client's expectations.
Here we present how our teams of highly energetic specialist work to find the right talent for your organization:
Considerable net of candidates :
We are a long time player in this industry and this has enabled us to establish an extensive database which is industry based and we proactively work to create an intermediary list of candidates so that we can answer to client's urgent requirement. We are capable enough to handle any client's requirement with hours.
Understand client's needs and culture :
Our recruitment specialist speak with the client's extensively about the talent requirement, company's culture and their total account value. We try to analyze their long-term goals to ensure that are given right candidates.
Our leading digital process :
Placement Consultant has a strong online resource in form of website. This platform by which we interact with thousands of candidates on daily basis. We are aiming to make our internet platform more flexible and user friendly for job seekers and clients.
Screening Process :
Our screening process involves extensive scanning of all the resumes that we receive from different sources. Thereafter, we filter out the qualified candidates and conduct the telephonic interview for them. The candidates who then qualify for the next round which is the personal interview round are invited to our office. The whole screening process tries to ensure that our clients get what they are exactly looking for. By following this process we make sure that the candidates which our clients finally meet their requirements.
Reference and Background check :
We do put our 100% effort to ensure that all the candidates who are placed through us have positive references and have cleared all the background checks.
The Management team :
We successfully manage candidate on boarding and the ongoing process of managing the time off, payment, leaves and other project related details during the engagement period with our clients. As premier contract staffing companies in Mumbai, we further ensure that all the candidates who are hired on the contract basis are placed with the company in case they fulfil the requisites.